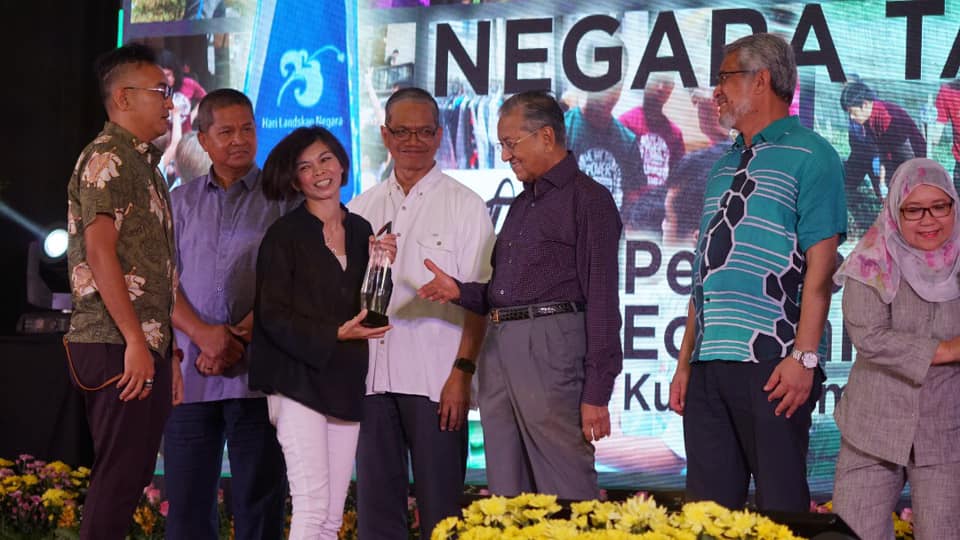 EcoKnights receives 'Inisiatif Sukarelawan Negara Taman' Award from PM
PUTRAJAYA:  EcoKnights, an environmental non-profit organisation received the "Inisiatif Sukarelawan Negara Taman" Award from Prime Minister Tun Dr Mahathir Mohamad at the National Landscape Day 2019 (HLN 2019), held at Putrajaya Botany Garden.
The award recognised EcoKnights for its outstanding volunteering efforts in restoring and rehabilitating degraded landscapes in the country.
"Winning this award was a pleasant surprise. It's great to be recognised for our volunteer programmes.
"I think it shows that small efforts such as this can grow to shape and encourage the general public to address environmental challenges by taking action.
"The real people we should be celebrating are our volunteers, as they are the ones who are making a difference.
"EcoKnights is merely a vehicle, and the real heroes are the young, the middle aged and the senior citizens whom we will be celebrating with soon," said Yasmin Rasyid, EcoKnights' founder and president.
EcoKnights has initiated a diverse range of volunteerism projects over the years and includes volunteerism efforts aimed at restoring and rehabilitating degraded areas in and outside of the city.
From beach and river clean-ups to household waste management campaigns, the EcoKnights' volunteerism efforts are often conducted in partnership with government agencies, community groups and businesses such as HSBC Bank, Vanke Malaysia, Starbucks Malaysia, DHL Express Malaysia, Shell Malaysia, Bursa Malaysia, Maybank Foundation, ASEAN Foundation and many more.
This year, EcoKnights is pursuing higher goals in continuing the effort of restoring and rehabilitating degraded landscapes around Klang Valley.
"We are thankful to all of our corporate partners, donors and supporters for the environmental volunteer initiatives. This year, we are targeting to plant 300 trees and to have 20 clean-ups, especially along the rivers within Klang Valley. We are keen to have more collaborations with various partners in achieving this goal," said Fadly Bakhtiar, EcoKnights programme director.
The National Landscape Day was initiated on   March 3, 1998 as an annual celebration; the effort is aimed at mobilising a culture of love for landscaping among the people in line with Core 1 of the National Landscape Policy, namely, to popularise love for landscaping. – Bernama