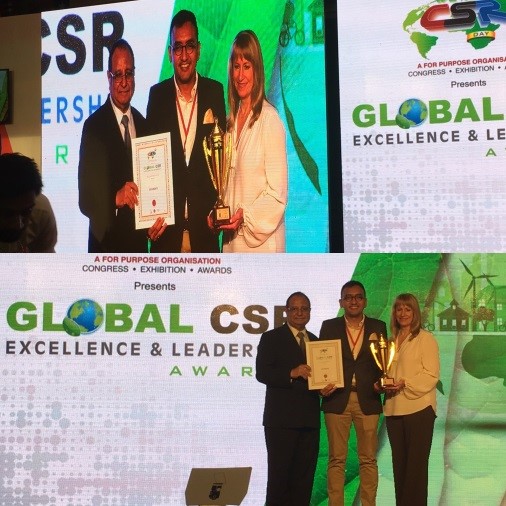 EcoKnights Bagged "Best NGO Leadership" Award at the World CSR Congress
18-19th February 2017, Mumbai (India) – EcoKnights was recently invited to the World CSR Congress, held in Mumbai, India from February 18th-19th. Represented by the organization's president, Yasmin Rasyid, and program director, Fadly Bakhtiar, a paper was presented at the Congress under the "Social Innovation" track. In this presentation, EcoKnights introduced the concept of hybrid NGOs in Malaysia, and also a framework approach to conducting impactful CSR with NGOs. The title of the paper presentation was "The Role of NGOs in CSR in Malaysia: the EcoKnights' Perspective".
On the last night of the Congress, an award ceremony was held in which EcoKnights won the "Best NGO Leadership" award (see insert picture). The award to EcoKnights was in recognition of the organization's contribution in its leadership effort to mobilize more communities to make a sustainable change in their backyards.
EcoKnights would like to thank the World CSR Congress as well as past and present corporate supporters who have chosen to work with the organization to inspire sustainable living across all communities in Malaysia.
The World CSR Congress, organized by the World CSR Day took place from 18th February to the 19th February 2017 at the Taj Lands End Mumbai in Mumbai, India. The conference covered areas like New Insights into the Correlation Between CSR and Brand Strength, Aligning CSR with Brand, Image & Reputation, Women Entrepreneurs Agents of Change, Innovation CSR Application in The Supply Chain Business, Value Driven Social Change, The Big Focus on Social Entrepreneurship, Women & Girls Innovation is a Mind-set, Entrepreneurship & Innovation as Engines for Growth, Driving Action In Social World in the world today, Key to Achieve Sustainability Goals and Competitive Advantage, Change For Sustainability, Sustainable and Responsible Business, Measuring The Success of CSR, Responsible Growth and Challenges and Opportunities in Putting Sustainability into the Heart of an Iconic Brand.