Communicating Science For Climate Action​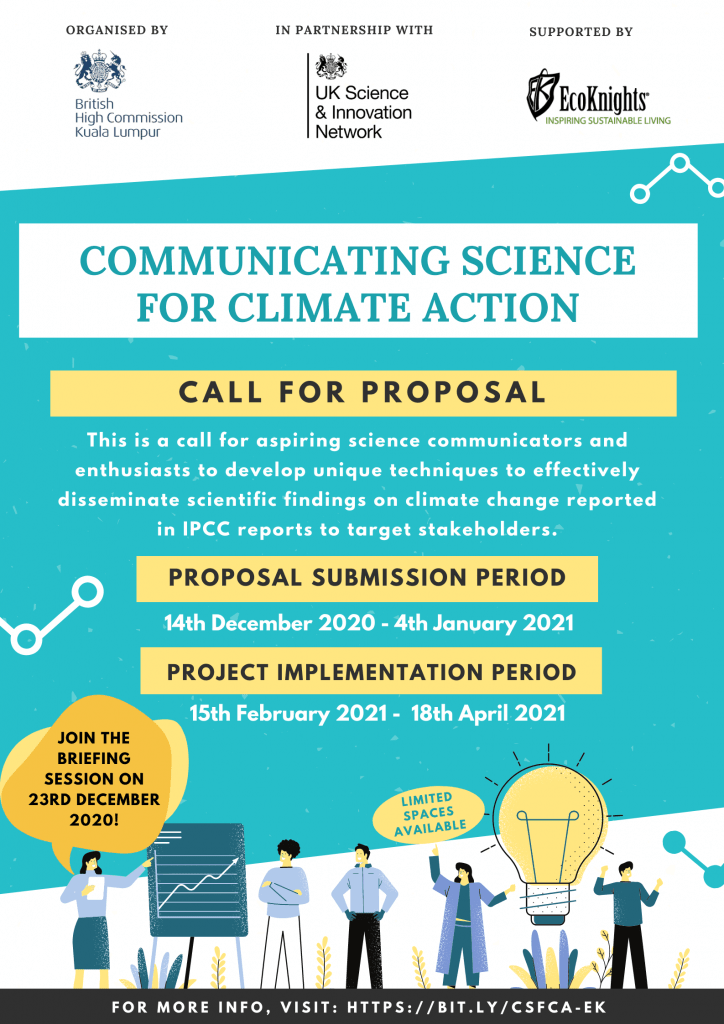 To enhance understanding of the science behind the drivers and impact of climate change, as well as to accentuate the science and innovations available to tackle climate change, the British High Commission Kuala Lumpur, supported by EcoKnights, is organising 'Communicating Science for Climate Action' project.
We are inviting science communication experts and enthusiasts to design unique strategies to enable effective communication of climate and climate change science to selected target stakeholders. The project designs must harness the scientific evidence, data analysed and reported in the provided IPCC reports and any other scientific findings reported by established organisation as well as share high quality Research and Innovation findings relevant to the selected sector.
We are seeing the consequences of global warming today in many fronts, predominantly as a result of the significant amount of greenhouse gas emission that occurred within the past few decades. Urgent and efficient strategies and action plans are crucial to adapt to and mitigate the impacts of climate change. At a global level, the UN Framework Convention on Climate Change (UNFCCC) is an international environmental treaty that is central to collective action. The United Nations Climate Change Conference, also known as COP, is held yearly to assess climate change adaptation and mitigation progress globally. In 2021, the UK, in partnership with Italy, will be hosting COP26 in Glasgow, Scotland, from 1st to 12th November.
Climate change science plays a key role in forming the foundation of knowledge and understanding of climate change. This then contributes to the development of effective approaches to address this crisis. While science-backed information about climate change is widely available, the level of uptake and understanding on it differs across stakeholders. Ensuring effective communication of Climate Science for credible climate action, especially to those who have a key role in pivoting action for climate change, is a critical step in the fight against climate change.
To support climate science knowledge uptake and to enhance understanding of the science behind the drivers and impact of climate change among various stakeholders in Malaysia.
To encourage more people to take robust climate action at individual, community and national level.
To boost the science communication field by inculcating scientific literacy among the general public, enabling individuals the opportunity to interact with scientists and experts.
To increase scientific awareness and prompt an enabling system that will utilise scientific evidence to effectively drive social and economic progress.
Who is eligible to apply for this call?
A group of individuals of at least 5 members (eg. youth-led organisations/movements, university groups from both UK and Malaysia, NGOs/CSOs)

Project lead must be Malaysian

Project leader should have considerable experience and exposure in delivering programmes, minimum 1 year of project management OR at least have handled 3 projects. We encourage groups to showcase diversity from background, age and gender aspects.
Announcing Grant Winners for this program will be held on the 9th of February 2021 at 2.30pm-3.30pm. The event is hosted by the British High Commission Kuala Lumpur, supported by EcoKnights, with a speech and announcement by H.E. Charles Hay, MVO, British High Commissioner to Malaysia.
During the session, we will have a segment appointed for program winners to present their winning project.
Please RSVP for this event below.
Announcing Grant Winners of Communicating Science for Climate Action by British High Commission Kuala Lumpur, supported by EcoKnights
We are excited to announce our grant recipients for this program. You may find a replay of the session here.
Each team has showcased and proposed a compelling pitch in their respective projects, and we are excited to engage with all of these groups of passionate people who are advocating for climate action through science communication and climate science methodologies.
Announcement by:
H.E. Charles Hay, MVO, British High Commissioner to Malaysia.
Elevator Pitches by:
Eva Vivian Justine, Kudat Turtle Conservation Society.
Tan Zhai Gen, Time To Rice.
Dr. Amira Firdaus, Universiti Malaya & University of Nottingham.
Santha Nair Chandran, DeRiA.
Tan Su Lin, Science Media Centre Malaysia.
Watch Our Briefing Session's Recording
We had a virtual briefing session which talk about:
Introducion to the program 

Proposal development tips 

Address any FAQs
Speakers:
Poorani Krishnan, Science and Innovation Officer, British High Commission Kuala Lumpur
Murugadas Loganathan, Climate and Energy Advisor, British High Commission Kuala Lumpur
Mahaletchumy Arujanan PhD, Executive Director, Malaysian Biotechnology Information Centre (MABIC)
Fadly Bakhtiar, Programme Director, EcoKnights
Note: The presentation slides are only for your reference, and not for reuse or circulation.
Database of Participating Scientists from UK and Malaysia:
Your project must cater to one of the communities and predominantly be based on the reports identified in the Call For Proposal Information Pack. Additional inputs are to be drawn from experts' advisors that will be connected to each team upon selection.
* Please take note that only upon final selection will the selected groups be linked to the relevant UK and Malaysia scientists and experts for in-depth subject guidance. These advisors have either been involved in the development of the respective IPCC reports and/or actively working in the target sector.
The database is still being developed.
We encourage you to read the Call for Proposal Information Pack, submission, reporting and budgeting templates below before applying. You may find the full documents below.
#3
Submissions close (Extended)
#4
Announcement of winning teams
#7
Project implementation period
#8
Submission of final report by project leads
Submission documents must include: 
Proposal Submission Form (Online)

Narrative Proposal

Budget Expenditure & Breakdown
Please take note that only one group will be selected for each topic.
Please submit your documents with the naming format below: 
Topic Number_Organisation_File Name
eg 1. Topic1_EcoKnights_Budget Breakdown
eg2. Topic1_EcoKnights_ Narrative Proposal
Topic 1 – Oceans and Climate Change 
Topic 2 – Land and Climate Change
Topic 3 – IPCC Reports on Global Warming (Teachers/Educators)
Topic 4 – IPCC Reports on Global Warming (Media Communities)
Topic 5 – Economics of Climate Change'